Organic bags (Potato starch bags)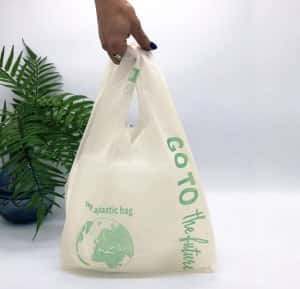 Starch-based t-shirt bag 28*48, 25 microns, PLA+PBAT
0.12 eur/pcs.
0 eur.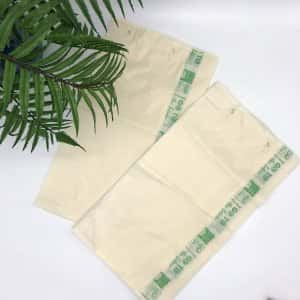 Starch-based flat bag 24*43cm, 20 microns, PLA+PBAT
0.07 eur/pcs.
0 eur.
In search of an alternative to plastic bags, a biodegradable material made from corn and potato starch has been developed by specialists as a result of research. Starch bags are gaining popularity.
Production and use of starch bags
Gradually, consumers around the world are switching to organic products, abandoning polyethylene and plastic whenever possible. In countries with high-quality recycling, this problem is practically solved: recycling allows you to reuse plastic bags without harm to the environment.
On the crest of popularization of products of the "eco" category, starch bags occupy a special place. They are rapidly filling the modern market, being an analogue of polyethylene and plastic packaging. Their appearance is no different from the usual containers, but they can decompose in the soil in just a few months, provided they are composted.
The production of biobags from starch is based on modern technology using PLA granules obtained from starch. This material decomposes as a result of exposure to natural phenomena: air, light and water in a short period.
Compared to traditional polyethylene products, biodegradable bags are less durable and not suitable for reusable use. After a while, eco-packages begin to deteriorate, so they cannot be taken for long-term storage of products.
PLA granules are made from sugars from corn starch or potato starch.
Having studied the issue in more detail, we understand that the increasing demand for bioplastics will stimulate enterprises to use agricultural land for raw materials for them, which is extremely wrong in the face of the threat of global hunger (the world's population is growing). Plus corn depletes the land pretty quickly. Considering all of the above, we do not work with manufacturers of granules based on corn starch.
The manufacturer BIOTEC © produces a pellet from potato waste (moreover, it is from waste potatoes, and not from a good one, suitable for eating). That is why the number of products is limited, but at least this production belongs to the category of responsible ones (you can find answers to the most frequent questions about starch bags in the News section at the link).
The decomposition of organic bags takes several months. Since biomaterials are significantly different from polyethylene, they degrade quickly in the soil.
The main benefits of using organic bags
Organic eco-packages are absolutely safe and have a number of advantages:
complete decomposition in the soil during composting;
no accumulation of static electricity;
elasticity and softness;
completely eco-friendly product.
The technology for the production of bio-packaging from starch allows you to obtain a soft and elastic structure of products.
Benefits of organic starch packages from Chernigov Package
One of the largest Ukrainian companies, Chernigov Package, is engaged in the production of natural biodegradable products based on additives. Ordering our organic bags provides the following benefits:
own production facilities, including equipment for extrusion;
service for putting a logo on the package;
assisting with package layout design.
You can buy organically degradable packaging by placing an order on cherpack.net. The company has been manufacturing packaging for more than ten years, and more recently, manufacturing bio-bags. During the production process, certified additives are introduced into the bio-packages using a special technology. This is done to accelerate natural decomposition.
The main office of the company is located in Chernigov, however, orders are accepted in Kiev, Odessa and other cities of Ukraine through regional representatives.